Vous le savez, je ne suis pas particulièrement fan du lait en général. Sa consommation régulière est en effet suspectée d'être corrélée avec l'apparition de plusieurs dysfonctionnements tels que la sclérose en plaques, l'état inflammatoire généralisé ou encore le cancer de la prostate. Cela dit il a prouvé ses bienfaits, de façon assez évidente dans des domaines bien précis dont nous parlons ici.
Les études :
Plusieurs études apportent en effet des résultats concordants concernant la consommation de lait après l'effort, les voici :
Étude 1 : Brock University, Canada – lien entre boisson de récupération (lait, soja, boisson sport) et synthèse de masse musculaire
La consommation de lait écrémé juste après l'exercice (entre T=0 et 1h après l'effort) favorise la synthèse de fibres musculaires et donc le gain de masse musculaire. L'étude porte sur 56 hommes qui ont réalisé 5 séances par semaine de levé de poids pendant 12 semaines. 1/3 consommait une boisson commerciale de récupération sucrée après l'effort (carbohydrate), 1/3 du lait de soja écrémé, 1/3 du lait écrémé.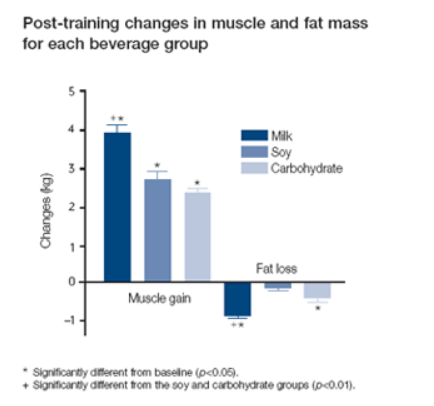 La prise de masse musculaire est de 3,9kg pour le lait, 2,8kg pour le soja et 2,4kg pour le carbohydrate. Retrouvez l'étude ici : Effects of Drinking Milk Following Exercise. Cette étude est confirmée par une seconde étude, plus pointue : Milk: the new sports drink? A Review.
Étude 2 : British Journal Of Nutrition – lien entre consommation de lait et vitesse de réhydratation
-Ces résultats sont appuyés par une seconde étude publiée dans le Journal of the International Society of Sports Nutrition qui nous confirme une synthèse de protéines musculaires plus importante chez ceux qui boivent du lait en post-exercice. Mais cette étude que vous trouverez ici https://jissn.biomedcentral.com/articles/10.1186/1550-2783-5-15 nous renseigne surtout sur l'intérêt du lait dans la réhydratation rapide après un exercice important. Elle nous rapporte que le lait est au moins aussi efficace que les « boissons sport » dans la récupération après effort. Il permet à l'organisme de retrouver une hydratation optimale au plus vite, ce qui accélère la récupération.
Ces deux effets positifs du lait pourraient s'expliquer par :
une concentration protéique plus importante dans le lait que dans les autres boissons (9%), l'apport protéique facilite une prise de masse musculaire plus importante.
la présence d'une concentration en minéraux importante dans le lait, ce qui pourrait favoriser une ré-équilibration osmotique (rapport oligoéléments/eau) et donc une une réhydratation plus efficace.
Les connaissances nutritionnelles sur le lait dans sa globalité seront d'ailleurs abordés dans une vidéo comme ce fut le cas pour la blé. Je vous encourage à consulter ces vidéos qui sont de vrais mines d'or d'informations nutritionnelles.